"There is a huge business opportunity in IoT, and given the economies of execution our nation demands, it would not be wrong to say that India will soon drive the world market for integrated solutions in the near future."
— Dr. Rishi Mohan Bhatnagar
Dr. Rishi Mohan Bhatnagar is India's most notable thought leader in the Internet of Things and Digital space. In this capacity, he also pursues a diverse portfolio of activities involving writing, advisory, public speaking, thought leadership and philanthropy.
He has undergone the Global Program for Management Development from Michigan Ross School of Business, USA and holds Doctorate in Philosophy, Computer Science and Engineering. He completed his Masters in Computer Applications from Institute of Management and Technology, Ghaziabad post his graduate studies in Electronics (B. Sc Hons.) from Delhi University.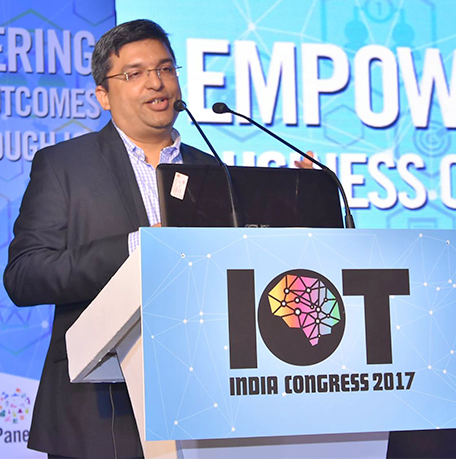 Over the two decades' experience of working in information technology companies, he is credited to have continually delivered sustainable revenue growth in the Internet of Things and Smart City initiatives amongst other digital transformation programs in both mature and emerging economies. Currently, as President, Aeris India (a privately held, Silicon Valley based company, in the m2m/IoT business since 1992), Rishi is leading the Aeris business in the Indian subcontinent, MEA and the APAC region helping companies, governments, startups and entrepreneurs to enable and adapt to IoT services through an integrated end-to-end IoT solution.
Prior to joining Aeris, Dr. Bhatnagar worked with Tech Mahindra (One of the top five companies in IT Services in India) in various capacities. As the Global Head for Digital Enterprise Services, he grew the Digital & IoT business to 10% of total revenue in 2015. He was also responsible for European Sales and Business Operations for Telecom Business in 2011 and attained 60% growth in two years.
Rishi's career is enriched with experience of spearheading new initiatives, establishing the business in new regions, growing new and existing customers from Fortune 500, Telecom, BFSI, Healthcare to Public sector and managing large scale outsourcing projects in multi-vendor and multilingual environment.

IoT Committee

IET India-IoT Panel Since 2015

Elecrama's IoT, AI & Electricity Track

CII IoT India Summit 2017 – 2018

IoT India Congress 2016, 2017 & 2018

National Committee on Technology and the IoT Core Panel

NASSCOM Smart Cities Task Force and the Startup Core Committee

Standards and Guidelines Committee for Machine-to-Machine in India

Advisory Committee, Deen Dayal Upadhyay Kaushal Kendra, a UGC initiative for skill development from industry in India

Standing invitee to the IEEMA Executive Council

Member of Technical Committee of NABH (National Accreditation Board for Hospitals and Healthcare Providers)

A PAN India startup hub providing end to end assistance to startups

Supports startups by providing early-stage funding
An Entrepreneurship Development initiative of Sharda University

Conference Advisory Body

Advisor for IoT India Expo 2016, 2017 & 2018

Conference Advisory Body

IoT International Exhibition & Conference

Innovation led Entrepreneurship Summit















Dr. Rishi Mohan Bhatnagar was recognized as one among the "50 Most Impactful Smart Cities Leaders (Global Listing)" by World CSR Day in 2017
SAP also conferred Dr Rishi Mohan Bhatnagar with the "Digitalist Thought-leader" award by SAP at the SAP ACE Awards that were held in 2015

Adjudged the "Most Influential amongst the Thought Leaders in the Business Insights domain — Digitizing Assets & Internet of Things" for 2015 by SAP
He was also recognized as the "Most Influential Digital Media Professional" by World Marketing Congress and Conference and Awards in 2015
A Glimpse Of The Journey So Far